French Door Glass Repair
---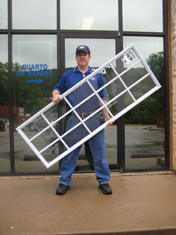 French doors are a great option that bring a graceful feel to any room. They add to the aesthetic style of your home, and create an airy passageway full of light within the room. If you're looking to have French door glass installed, or if you are in need of repairs or a replacement, call us at Ace Discount Glass & Door. We offer French door glass services and are ready to help today.
At Ace Discount Glass & Repair, we stock the most popular sizes of glass for the most common French door styles, so that we may provide you with same day service. We have French doors with or without internal bars, and we can replace them complete with frames. Whether you want your new French door glass installed or prepared for carry out, we can provide you with what you need today.
Free French Door Glass Repair Estimates Today!
---
Don't hesitate, because at Ace Discount Glass & Repair, we provide free estimates. So what are you waiting for? Call us now at 512-345-3105 and let's get started today! We are centrally located and open on Sundays for your convenience. We also have 5 service trucks in operation so that we can reach you as quickly as possible or you can email us at acediscountglass@gmail.com for more information.