Austin Patio Door Glass Repair
---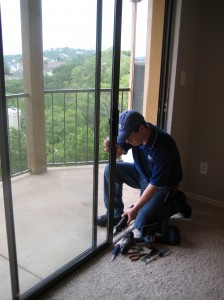 With time, the rollers on the bottom of patio doors often rust up and start sticking, making the door difficult to open and close. Sometimes the wheels come off and the door frame drags on the threshold, destroying the rail that the wheels roll on. As your door glass repair company, we can fix those problems with new wheels or a new rail — our customers are always happy about us fixing their door that hasn't worked properly for years.
Ace Discount Glass & Door has many patio door services — from installing the glass to replacing the rollers or repairing the rail. Ace Discount Glass & Door stocks twelve patio door glass, covering the most common sizes, types, and tints of patio doors.
If you can give us the measurements, we can come to you quickly to install a replacement glass in your broken patio door on the same day. If you can't determine these measurements, don't let it stop you from calling us. We'll bring one or more glasses and do whatever it takes to get your door sealed up.
Contact Ace Discount Glass & Door Today!
---
Avoid the aggravation of a difficult door and start enjoying the outdoors again, call Ace Discount Glass & Doors at 512-345-3105 now for quick, same day service.